2023 Bighorn Rendezvous
May 19-20, 2023
Two Rivers Convention Center
Grand Junction, Colorado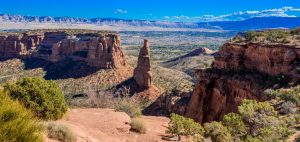 Please note that adult registration price increases to $100 on May 1!
 Registration ends May 4!
Click here for sponsorship opportunities!
Welcome to the 2023 Bighorn Rendezvous and Banquet!  We have an exciting event this year with live and silent auctions; statewide bighorn sheep, mountain goat, and pronghorn license raffles; a youth program and a Life Member mountain goat hunt drawing!  We are thrilled to return to the Western Slope and Two Rivers Convention Center in Grand Junction for the first time since 2016.
We will be conducting our fifth Life Member hunt giveaway Saturday night.  One lucky life member in attendance will win a 2024 Wrangell Mountains mountain goat hunt with Paul Claus and Ultima Thule Outfitters. Be sure to upgrade to a life membership on the membership page when you finish registering for the Rendezvous!
The Life Member Social will be held Friday evening, 4:30-6:30 PM, at the historic Avalon Theater in downtown Grand Junction, within walking distance of the convention center. The Social will feature free beer sponsored by Blue Moon Brewing Co. and High Country Beverage GJ, a cash bar, hors d'oeuvres, and great company! Space is limited, so attendance is limited to Life Members and one non-life member guest per Life Member. Capacity is limited to 150 total guests, so please register for this free event early!
Following the Life Member Social there will be a free bighorn sheep film event at the Avalon Theater, and everyone is invited! This event will feature the film Transmission, produced in British Columbia and highlighting the risk of the infectious bacteria Mycoplasma ovipneumoniae (M. ovi.) poses to wild sheep herds. Following the film there will be a question and answer session about M. ovi., wild sheep respiratory disease, and what you can do to help. View the Transmission trailer here.
Please plan to attend the Colorado Parks and Wildlife bighorn sheep meeting and the RMBS membership meeting Saturday afternoon, followed by the Blue Moon Brewing Company Social Hour, dinner, and the fundraiser!
Room blocks are available at the following hotels until April 20, 2023, or until all rooms in the blocks are booked. Room rates are $189/night. Please book early! This is a special event weekend in Grand Junction.
Hampton Inn
1-970-243-3222
205 Main Street
www.grandjunction.hamptoninn.com
Online Group Booking Code:
King or Two Queens –RMB
Click on Special Rates
Enter code in "Group Code"
Tru by Hilton
1-970-256-1000
243 Colorado Avenue
www.grandjunctiondowntown.trubyhilton.com
Online Group Booking Code:
King or Two Queens – RMB
Click on Special Rates
Enter code in "Group Code"
Event Schedule
Friday, May 19
 4:30 PM-6:30 PM – Life Member Social at the Avalon Theater
7:00 PM-9:00 PM – Transmission film at the Avalon Theater
Saturday, May 20
1:00 PM:  Banquet Hall opens
1:30 PM-4:30 PM:  Youth Shooting, Hunting & Ethics Education Programs (S.H.E.E.P.), sponsored by Wild Sheep Foundation
1:30 PM-2:30 PM:  Colorado Parks and Wildlife Meeting
2:30 PM-4:00 PM: Annual Membership Meeting
4:00 PM-5:30 PM:  Social Hour, sponsored by Blue Moon Brewing Co. and High Country Beverage GJ
5:30 PM:  Dinner
6:30 PM:  Awards/Recognition
7:00 PM:  Live Auction, followed by statewide raffle license drawings and Life Member goat hunt drawing
7:00 PM:  Silent Auction concludes